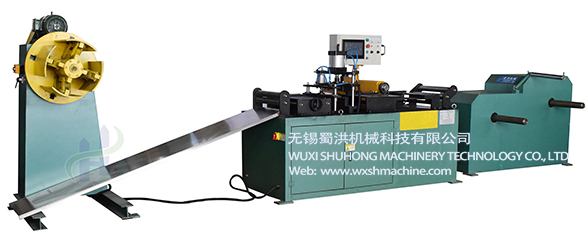 3D Wound core cutting machine
Three - dimensional 3D Transformer Wound Core Cutting Machine
Main features:
1. Apply to silicon steel strip cutting for the three-dimensional triangle wound core
2. Cutting type: curve/ straight
3. Adopt servo motor, PLC control system and touch screen.
4. It has functions like: automatic resetting, automatic adjusting-tool, automatic shutdown, strip parameter setting and real-time display.
5. It is equipped with a variable frequency feeder, material's position photoelectric detection, no need of storage pit, synchronous operation of feeding speed and cutting speed.
6. It is equipped with a torque receiver. It makes the constant tension of torque operate with the cutting machine synchronously. Material receiving neatly and closely.
7. The machine adopts high precision ball screw, and precision guide to ensure smooth operation, low noise, and long lifetime.
8. Hob uses high quality alloy steel, fast and easy to equip the cutter. It is available for different thickness material.
Technical parameters
Code: SHKL-400
Cutting type: straight/curve
Max feeding width: 400MM
Cutting speed: 0-60M/min
Cutting method: cut one into two strip
Material utilization: 99%
Cutting accuracy: ±0.3MM
Cutting burr: ≤0.03MM
Speed adjusting way: stepless speed regulating