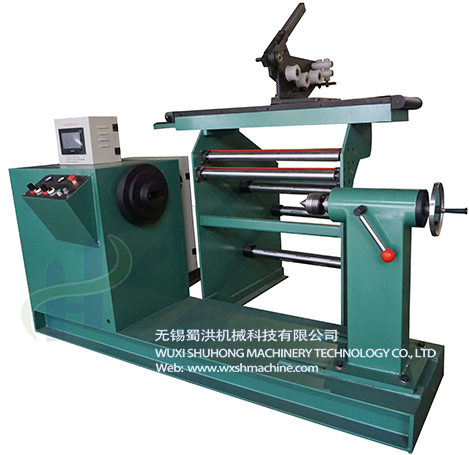 HV Automatic cabling coil winding machine
Automatic cabling coil winding machine
Application
This equipment is used for amorphous alloy transformer HV coil winding and the same art work transformer coil winding.
Features:
1. Apply to round , oval , rectangle shape coil winding
2. Adopting PLC control , touch screen human - machine interface
3. Automatic cabling device is servo motor driving, precise ball screw and line guide as direction guide
4. Wire supplying use cylinder buffering structure, oval and rectangle coil winding problem can be solved effectively.
Equipment composition
1. Main machine
2. Automatic cabling device
3. Interlayer insulation paper device
4. Wire supplying race
5. Control system
Technical Parameters
Code SH-600 SH-800 SH-1000
Coil height ≤600mm ≤800mm ≤1000mm
Coil outer diameter 80-500mm 80-600mm 80-800mm
Main axis rotating speed 0-375r/min 0-220r/min 0-220r/min
Speed adjusting method Stepless speed adjust
Working torque ≤300.M
Main axis center height 850mm
Main axis loading ≤200kg ≤300kg ≤500kg
Guiding wire specification Round wire: φ0.3-φ3mm Flat wire:≤3*12mm
Wire cabling precision 0.01mm
Main axis size 50*50*800mm 50*50*1000mm 50*50*1200mm
90*50*800mm 90*50*1000mm 90*50*1200mm